Geek Fight at Dragon*Con!
31 August 2008, Surfeit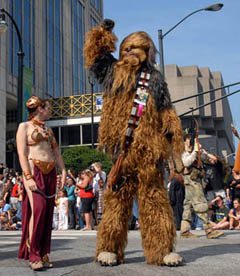 Greetings and beatings, Geek Fighters! Well, we just got back from an awesome and exhausting Saturday at Dragon*Con in Atlanta, GA. Though we're all pretty tired and a bit disoriented from all the craziness, we wanted to give a quick update for the gamers we met at the convention.

Dragon*Con went better than expected; we got a lot of interest in Geek Fight from a lot of people--and only a few looks of terror from girls who probably thought we were trying to hit on them. (If you didn't know, the phrase "Would you like a free pack of cards?" has sexual connotations in the geek world.) For those of you who got away from us without a copy of the 7-card hand rules, we've uploaded a printable PDF. We'll have the 20-card deck rules posted as soon as our busy schedules allow!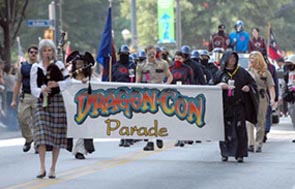 If you want to be notified of the latest developments in the Geek Fight saga, send Charon an e-mail with the subject line "DDG: Mailing List" to be added to the mailing list. We'll have a store and a better forum up sometime soon. In the meantime, keep visiting the site for updates. Hell, make it your browser's default home page and obsessively refresh it every hour.

Last but not least, if you have a Facebook account, feel free to join our group and become a part of the ever-growing Geek Fight Legion.



Geek Fight Update!
7 August 2008, Voslyn

We're only a few weeks away from the official release of Geek Fight! We're Just about finished polishing the game, the art is finished and we'll have a full gallery up within the next few days! The End is near! Or maybe we should say the Beginning is near!

Since we're getting closer to launch and all of you Geek Fight fans have been so patient with us... We figured you deserve a little eye candy!

Three of the finished Geek Fight cards, Enjoy!
Bendy Dungeon Wall
Random Anime Character
Confiscate



Diving Dragon Games Launches New Web Site: The Search for Artists and Sponsors Continues
8 June 2008, Surfeit

Welcome to the new and improved Diving Dragon Games Web site. We've worked relatively fast to get this up and running, and we hope it provides you with a better browsing experience than earlier incarnations. Please report any bugs to Voslyn.

Progress toward the release of Geek Fight! is steadily climbing; however, we are still looking for a few more artists to ease the work load on individuals in our company. If you have good illustration skills and are willing to help out with this revolutionary self-promotion strategy, please e-mail Surfeit with samples of your work.