Geek Fight is our flagship game and the first strategic card game of its kind. If you sponsor a color business card through us, we will design it to conform to the basic style and color templates of the existing game. Your color business card will feature your contact information, as well as artwork and effects that function in the Geek Fight game. What's more, since your sponsored card will be of interest to players in the gaming community, players will be actively seeking your business card for addition to their decks. Recently we've added even more services for potential clients, convention managers, online shop owners, brick and mortar shop owners, and more. See our index below:
General Information for Potential Advertisers.
What Will My Geek Fight Ad Look Like?
What Services Do You Offer For Advertisers?
What Services Do You Offer For Conventions / Convention Managers?
What Services Do You Offer For Website Owners?
What Services Do You Offer For Brick & Mortar Shop Owners?
Anyone is welcome to be an advertiser or sponsor. If the Geek and Gamer market is appealing to your company or potential clients, we can help!
Geek Fight is funded by placing small advertising blocks on the face of the cards. (After all, they're business cards!) The ad blocks are sold to advertisers who are interested in cornering the geek market--or anyone looking for a little extra publicity. We're even willing to place ads for weddings, anniversaries, and birthdays!
Geek Fight is incredibly cheap for our players! As previously mentioned, players will be actively purchasing and hunting down your business card through any means necessary! You can choose to either hand your cards out yourself, or we can distribute them on our website. If a player purchases cards through our website, he or she pays one dollar per pack to cover production costs. We've already gotten lots of positive feedback from our players, sponsors, and even a couple of A-list geeks. Click here if you want to learn more about Geek Fight, or keep reading if you want to get in on the action!
Return to the top of the page.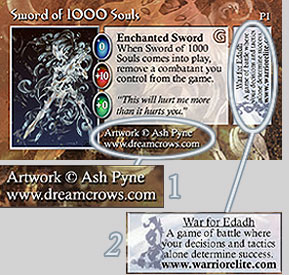 You can see the advertising block and the artist credit area, in addition to the rest of the card's features, in a breakdown of the Geek Fight on the left.
Section 1: This area is the artist credit area, a service we provide in exchange for the art. Since at least 1,000 of each card will go out to players and prospective employers, having a URL listed underneath the artist's name is an excellent way to generate attention and potential commissions.
Section 2: This is the ad block where a sponsor may purchase advertising space on the card. Clients can advertise a new game, product line, or even something as radical as a fantasy-themed wedding anniversary.
Return to the top of the page.



Price
Service

$99 US

One run of 1,000 promotional cards featuring your advertisement. (see NOTE*).

$10 US

Foil cards now available! Add $10 US (per 1000) for promo foil cards.

$50 US

Get your ad printed in a first edition (1000 copy) printing of a new Geek Fight set.

$250 US

Reserves an advertisement on a card for the full release of a new Geek Fight set. This includes the initial 10,000 piece printing and reprints of the set.
Once a card has been printed, we can arrange to distribute the card on our website, or we can mail the cards to the advertiser for personal distribution (or both). The production quality is very high: each card has a full-color front and back with rounded corners and a clear aqueous coating. The card stock our printer uses is much heavier and sturdier than a typical business card. The quality is on par with that of a typical CCG. This is a great opportunity for Game Sponsorship, but the time to act is now, as the above prices are for a limited time only!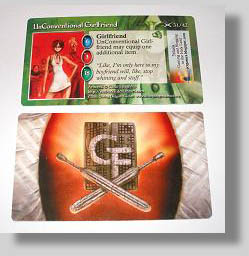 Most business cards are thoughtlessly thrown away within 48 hours of receipt. This is what makes our business card game so unique and such a good investment for our advertisers. Each business card is a collectible card that is used in-game. Each will have different artwork and different abilities, becoming a crucial part of various combos and strategies that players can use when building their decks. The players will see your card (and advertisement) many more times than they would see a typical business card, which increases the chance that they will invest in your website or purchase your products.
Email charon@divingdragongames.com if you have any questions. If you would like to place an ad on one of our cards, you can either email Charon, or you can post in our forum to indicate that you are interested in working with us as an advertiser.
Return to the top of the page.



Diving Dragon Games is able to do custom designed cards and on-demand printing! This makes us a perfect choice for designing customized convention badges for your con-goers. Plus, the con-badges that your visitors receive will be Geek Fight cards which are playable in game! Where else can you get custom designed con-badges which are also CCG cards?! Also, Conventions get a significant discount off of the standard price per thousand!
Having customized Geek Fight convention badges has several cool benefits. Your exhibitors will be keeping their own Geek Fight business cards at their tables, and your convention patrons (once they realize that some of the exhibitors have game cards just like their con badge) will be eager to hunt them all down! This increases foot traffic for your exhibitors and gives your con an extra little something for fans to remember you by. Also we have our own fan base that would go crazy when they find out that special promo cards are available through your convention! Once our rabid Geek Fight fan base gets word of this you won't be able to keep them away!
Price
Service
Contact for Price
As many Con-badges as your Convention needs (multiples of 1000, see NOTE*).

Add $10 for foil!

Add $10 to the above price per thousand for foil Con-badges!

10% Commission

Send us a customer for advertising or printing and get 10% commission.
We would like to partner with your convention (afterall the first set of Geek Fight takes place in a friggin' convention)! If you need advertisers to support your convention, or you are looking for advertisers to buy space in your con's program, let us know! Also if you would like to partner with Diving Dragon Games in another way that we haven't thought of yet, then send us an email.
Return to the top of the page.



We are currently working on an affiliate program that we hope to have up and running in the very near future! In the meantime, we would love to discuss link exchanges / article exchanges / or video mentions if you own a video site. Contact us, or visit us on the forums.
Return to the top of the page.



Yes you can offer Geek Fight in your Gaming shop, Comic Book store, Celebrity Wax Museum gift shop, or any other kindof store you might own! If you decide to carry Geek Fight in your store, we will give you a link to your store's website on our links page free of charge, and best of all you will get your Geek Fight cards at wholesale prices!
Wholesale Price
Product
Contact for Price

1 Box of Ready to Play Geek Fight Decks, 12 Decks Included.

Contact for Price

1 Box of Geek Fight, 30 Packs Included (7 cards in each pack).
If you are a shop owner and you are interested in stocking Geek Fight, send us an email for details.
Return to the top of the page.



NOTE: *In cases of cards we've custom designed to a sponsor's specifications, the $99 fee does not include the price of art. Sponsors have the option of commissioning an artist or providing their own images to be used on the card. (However, for quality control purposes, we reserve the right to reject art that we deem obscene or not up to the standard of the game.)